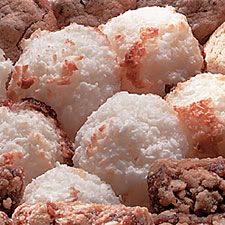 Making tasty coconut Macaroons is all too easy. Quite frankly any fool can do it and there are plenty of easy how to guides online.
Here
for instance is a prime example.
What is more significant though is the fact that most people do not know how to care for their tasty Macaroons once they have them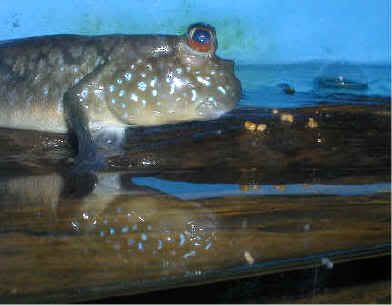 The sad truth is that even this creature knows more about the care of Macaroons than most of you out there. So the two of us after several hours of amphibian mind meld have produced the following guide for your education.
How to care for your Macaroons and make them feel more at home
A basic introduction courtesy of African Mudskipper
Introduction
The term cake is often reserved for the humble macaroon. It does, however, cover a wide area of confectionary including, of course, doughnuts. Whilst there are many areas of overlap between doughnuts and macaroons their needs are best dealt with separately. This article deals primarily with macaroons.
A little Macaroon history
According to The Food Chronology by James Trager, the first mention of the macaroon was in 1533 when Catherine de' Mecici of Florence married the prince who would become Henry II of France. Her native Italian cooks introduced several "Florentine" dishes and cooking techniques to the French, among them Macarons. According to Trager, Macaroons were only introduced to Italy recently before the arranged marriage. It is possible that they could have gotten them from the Greeks, or Arabs, both of whom have conquered parts of Italy in the past.
Choosing your Macaroon
Sitting in a cake tin all day on your own can't be much fun, so why not give your Macaroon some company and buy more than just one? The Coconut Macaroon or more exotic types such as the toffe, the chocolate, or even the bacon macaroon are all the same species of cake, so they will live happily together in the same cake tin.
Choosing the right sized cake tin
Once you have decided how many macaroons you would like, you need to make sure your cake tin is big enough for everybody. As a rough guide a small 8" (20cm) tin will only take one macaroon, a 12" (30cm) tin will take two macaroons and a 24" (60cm) tin will take up to three macaroons. Sand, rocks, plastic plants or even some fun ornaments for your macaroons to look at, will help it to feel at home.
Caring for your Macaroon
Macaroons are amongst the hardiest of all cakes, which no doubt contributes to their popularity. Give a macaroon a good sized tin, a few plants with several pebbles and it will be much healthier, happier and stay fresh longer. With a little care and attention the tin will also become more interesting and an attractive focal point in the home .
Feeding your Macaroon
To stay healthy, active and colourful Macaroons need a regular balanced intake of a range of essential nutrients. The best and easiest way of providing these is with a complete, balanced diet. Morlock Brand Orphan Flakes have been specially formulated to provide all the nutrients a macaroon requires.
How Often? How Much? Ideally you should feed your macaroon every morning and evening. Sprinkle a few flakes in the tin. If they are eaten within a few minutes give a little more food. If the macaroons stop feeding, or after about 15 minutes, remove any uneaten food with a small net.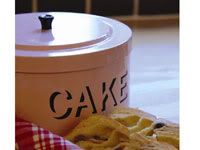 In the meantime, here are just a few of the most common problems our experts have been able to answer:
Q, If I go away for the weekend should I feed my macaroons extra?
A. No, it's actually better for your macaroon to miss a day or two, rather than be over fed. In fact, they can be left up to two weeks without being fed, providing they are seperated otherwise the stronger macaroon will kill and eat its less mighty siblings.
Q, How long will my macaroon live?
A. Macaroons will live at least 10 years. However, the almond macaroon can live up to 20 years in a tin.