Introducing: African Mudskipper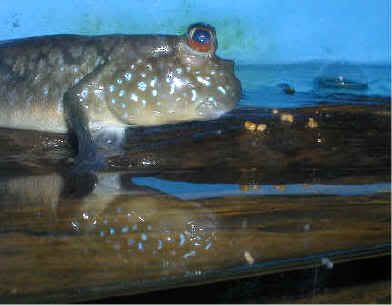 Recuperating after a mindmeld
Who or what is African Mudskipper?
As some of you may be aware, this enigmatic fellow is one of the world's leading Macaroon experts. African Mudskipper is wise beyond his size. To the ouside world he is merely a respected academic expert on Macaroon behaviour, psychology and mind melding. However, I can reveal to the SUPER BLOGGERS CLUB that in reality his vast intellect and diminuitive frame carries the macaroon tradition and teachings of the ancient Lemurians into the 21st Century. My dehydrated state of being has the distinction of being his apprentice in safeguarding and selectively spreading this knowledge throughout the ages.
Evolving Mankind Through Macaroons and SUPER BLOGGING
Being thousands of years old, and the keeper of many secrets African Mudskipper is very wise and has decided finally to become an active Super blogger to help the blogging humanity evolve to a higher level of consciousness. He has answers to many of your questions...
African Mudskipper Meditates on the cosmic nature of the Macaroonus Spaghettius
Ok, so this guy's the receptacle of ancient & knowledge traditions, but what else does he bring to the SUPER BLOGGERS CLUB Table?
Is African Mudskipper another world class poet like the Cloned Corpse of Marcus Tal, or a ruthlessly metrosexual Man-Tiger like the Dehydrated Corpse of Marcus Tal?
Consult the
ORACLE
that is African Mudskipper for whatever wisdom, knowledge and answers you seek...
As a great example of his wisdom, this ancient Lemurian hymn he has related to myself and the dehydrated one inspired the creation of this site and eventually the Super Bloggers club. We hope it can inspire you all to new heights of excellence in your personal and blogging lives:
Somewhere out there someone needs me.
I don't know how or where, but believe me.
I'll walk the universe to find her.
For better or for worse beside her.

For the honor of love.
By the power above.
I have the power.
I have the power.

A stranger walked into my world.
And when he talked, I really heard.
He spoke of things like love and peace.
The joy they bring will never cease.

For the honor of love.
By the power above.
I have the power.
I have the power.

The truth of love will always guide us.
It's strength above will be inside us.
Forever more we'll be together.
Our hearts will soar one to the other.

For the honor of love.
By the power above.
We have the power.
We have the power.
So can you