Lament for Chatshow Charlie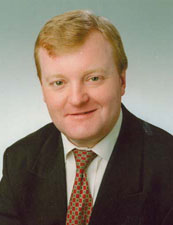 The 2003 invasion of his leadership contest
And for a time the public share of Chatshow Charlie
from Plymouth to Inverness was the nation blessed
Charlie and chums formed distinctive policies
leaving hopeless Tories vanquished.
Principled stand in the 2001 election.
Principled stand the South West Tories received a pasting
Principled stand in Inverness.
Principled stand in the invasion of the 1920s.
Principled stand unlike Eliott Ness towards Mr Drinking.
Principled stand he intended to quit smoking
But in 2005 of the coming campaigns
Charlie still popular and friendly,
announcing coming electoral gains
there was a sign, on hidden walls, that could end Kennedy
For Charlie had a Mr Drinking in him, although settling in recovery
getting better he said, no need for a breath test
Regardless a bottle of frontbench figures broke him, they said, for the best...
Chatshow Charlie stopping not to think and rest bravely
His battling fondness for reply:
I will not resign, I will fight the contest said embattled Charlie on the telly.
But now Charlie has with honour fallen on his sword
after so unpleasantly being cornered
Chatshow Charlie unfit, or fit, who can say truly say?
However, former allies viscious haste leaves an unpleasant taste.
As through drink, bad judgement and conspiracy
fine politician gone to waste.
A Poem by
the cloned corpse of Marcus Tal